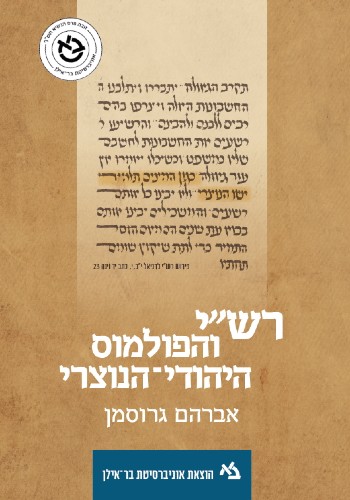 Rashi and the Jewish-Christian Polemic
Avraham Grossman
Winner of the President's Prize 2020
Rashi had three primary objectives, to which he devoted his diverse literary enterprise: interpretation of the Bible and the Talmud, fortification of the Jewish community, and polemicizing against Christianity. While the scholarly literature has dealt extensively with these first two objectives, the third has received little attention. Rashi and the Jewish-Christian Polemic fills this void. A broad historical perspective informs this book, as well as an inclusive consideration of Rashi's many and variegated writings related directly or indirectly to the Jewish-Christian polemic, which gained momentum in his lifetime.
The Church in the thirteenth century saw Rashi as its main antagonist, and claimed that he had tarnished the image of Christian saints and undermined the efforts of the Church to convert Jews to their religion. Rashi emerges in this work as a religious leader who bore the weighty responsibility for the fate of the Jewish people, particularly in Europe, exiled as they were from their land. Contrary to popular conceptions, Rashi, here appears as resolute and robust. This counter-image arises from the numerous polemical passages penned by Rashi that had been expunged by Christian censorship, deletions that persist to this very day in most printed editions of Rashi's commentaries. Yet these polemical passages were preserved in manuscripts, and come to the fore throughout this book.
Danacode: &nbsp 110-20315 ISBN:&nbsp 978-965-226-605-7 Language: &nbsp Hebrew Pages: &nbsp 412 Weight: &nbsp 950 gr Dimensions:&nbsp 17X24 cm Publication Date: &nbsp 05/2021 Publisher: &nbsp Bar-Ilan University Press
Preface 9
Introduction: The Religious Polemic and its Development 13
Chapter 1: Rashi's Sense of Mission 45
Chapter 2: Seven Books of the Bible and Rashi's Commentary: Isaiah, Zechariah, Psalms, Proverbs, Song of Songs, Lamentations, Daniel 68
Chapter 3: Explicit Polemics with Christianity 155
Chapter 4: Unspecified Prophecies Against Christianity 170
Chapter 5: Recoil from Close Relations with Foreigners 183
Chapter 6: Historical Concretization of Biblical Prophecies and Heartening the Refugees 207
Chapter 7: Midrashim and Rashi's Own Formulations 237
Chapter 8: Original Homilies by Rashi and his Use of Religious Polemics 256
Chapter 9: The Love of Jacob and the Hatred of Esau 282
Chapter 10: The Preeminence of the People of Israel and their Eternal Superiority 304
Epilogue 337
Bibliography 343
Indexes 369
Avraham Grossman, Professor Emeritus in the Department of Jewish History at the Hebrew University of Jerusalem and a member of the Israel Academy of Sciences and Humanities, won prestigious awards, including the Bialik Prize in 1996 and the Israel Prize in 2003. To date, he has authored nine books, including The Early Sages of Ashkenaz, The Early Sages of France, Rashi, Piety and Rebellion: Essays in Hasidism, and Pious and Rebellious: Jewish Women in Medieval Europe.