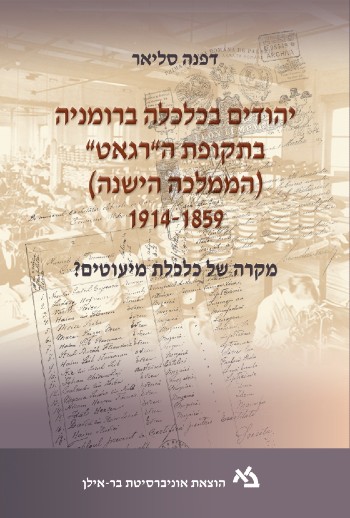 The Jews in the "Regat" (Old Rumania) Economy 1859–1914
A Case of Minority Economics?
Dafna Cellier
The book deals with the economics of the Jewish minority in the "Regat"(Old Rumania) from 1859 to 1914. The main study purpose is to define their economic structure while attempting to clarify : does the economic behavior of Regat Jews fit the economic behavior of other national minorities , particularly, other Jewish minority groups?
The study is mainly based on factual and statistic data collected from primary-sources thanks to a pioneer, long and strict work.

The exposition of the theoretic models used for the analysis of a Jewish minority's economical structure was done in paragraphs composing the introductions.

Parts A and B of the book expose the objective-circumstantial and the subjective-imminent factors constituting the background for the economic activity of Regat Jews.

Part C demonstrate the analysis of the economic structure of the Regat jews while comparing it with the local majority population and with other national minorities , in light of the theoretic models , focuses on five principal sectors: commerce and capital, craftwork, industry, services (including liberal professions) and agriculture (especially the leasing of forests and estates). The cogency of these theories is tested in the Regat's regions, both rural and urban.

The final part of this book exposes the conclusions of the research while the principal - suggests that the economic structure of Jewish minorities is greatly determined by the circumstantial factors in which it operates, and might resemble the structure of the local majority population , provided that its economic activity is not limited. On the other hand, its economic distinction will increase proportionally to the restrictions on its economic activity.

The economic aspect is necessarily related to other aspects of life: socio-political, religious and cultural, which are all interrelated and tightly interwoven.
Danacode: &nbsp 110-20291 ISBN:&nbsp 978-965-226-511-1 Language: &nbsp Hebrew Pages: &nbsp 456 Weight: &nbsp 700 gr Dimensions:&nbsp 17x24 cm Publication Date: &nbsp 02/2020 Publisher: &nbsp Bar-Ilan University Press